Alyssa's Perspective
It's still an odd feeling being on campus after such a long time of social distancing and zoom. West Palm is one of our counties that has opened up pretty quickly in regards to schools and clubs which has been such a blessing.
Four of our staff members were able to visit a First Priority Club in person and here's how Jesus moved in their time there.
"It was not only my first time being on campus, but my first time ever being at a First Priority Club. Spring Share week was in full swing and students had spent all week inviting their friends to club to hear the Gospel. I'm not sure what I expected, but the classroom doors opened and students just piled into the class. Backpacks in hand, masks on, smiles that reached to their eyes and an energy that made us all laugh was what greeted us that afternoon. So many students showed up that we had to grab more stacks of chairs from the classroom next door. We had about 25 students. A little girl told me, "We invited our whole class and they're ALL here!!"
To get the energy out, but also their attention, we started off with a massive game of Rock-Paper-Scissors. Halfway through the game a boy spoke up "Hey are we going to read the Bible yet?" Wow. The fact that he was so much more interested the Bible than the game was so amazing to hear and see. Game done, prizes distributed; now on to the Gospel.
With all eyes closed and heads bowed, I watched as more than half the class raised their hands to choose Jesus. I remember what I was like at their age and was so amazed at how hungry they were for love and for purpose and meaning. For Jesus.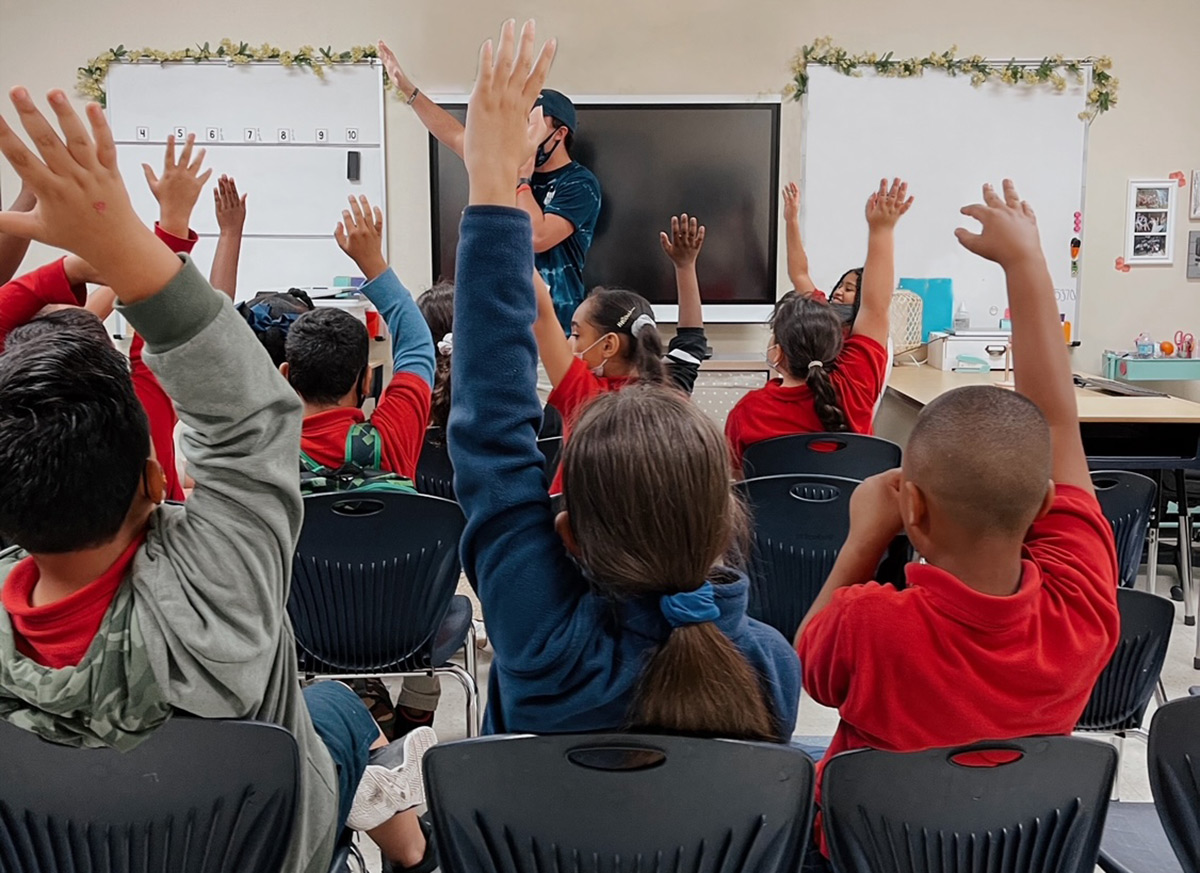 Club finished, Bibles were handed out alongside the donuts we had brought and we started putting the classroom tables and chairs back in their proper positions. I noticed a girl had stayed behind because her mom hadn't arrived yet. "Are you a Christian?" She asked, "Are you all Christians?" I said, "Yes! We're all Christians!" And then she threw herself in my arms and just started sobbing. Confused, I held her, unsure of what to do but comfort her and ask her if anything was wrong or if she needed help. She said nothing was wrong but kept crying. Another one of my colleagues came alongside her and sat her at one of the desks and started asking her some questions. Sniffling, she told us she was a Christian too and asked us how we came to know Jesus. Each of us went around sharing our personal experiences with Jesus and how we came to choose Him for ourselves. By the end of it, she had calmed down and we gave her a Gospel bracelet and showed her how she could use it to share with others the Gospel."
Quarantine was hard for all of us. I think sometimes we think kids are much more versatile than they are and sometimes a good cry and encouragement is what we really need. Sometimes all we need to know is that we're not alone on this journey with Jesus and there are so many ways to be connected and encouraged.
It's been amazing to see how First Priority Clubs are bringing Light to these students and Light to the schools of South Florida.
Pray for the hearts of these students and that when the time is right that they would choose Jesus and allow Him to change their lives forever.